Dubai's Luxury Real Estate Market is a Smart Investment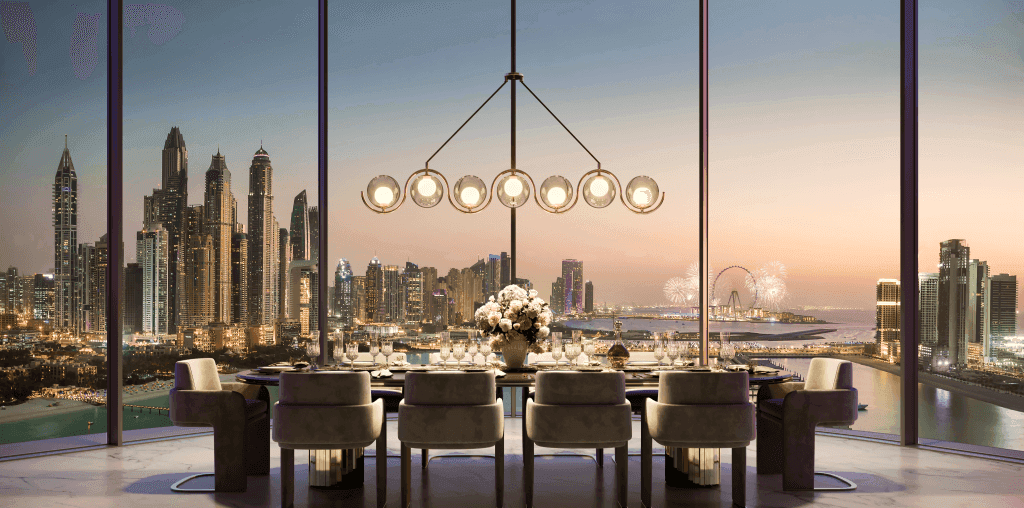 Guide
28 Aug 2023
Dubai's allure as a top-tier destination for global real estate investors and luxury home seekers has surged in 2023, solidifying its position as the premier market for luxurious properties. The emirate has achieved remarkable success in this domain, with an astounding 92 luxury real estate transactions amounting to a staggering $1.7 billion during the first half of the year. This remarkable feat has propelled Dubai ahead of prominent global hubs such as Hong Kong, New York, and London.
The question then arises: what makes Dubai, the ultimate choice for investing in luxury real estate? Let's explore the key factors that set this vibrant city apart:
What Makes Dubai, a Perfect Hub for Luxury Real Estate Market Investment?
Luxury Real Estate Market Provides Investor-Friendly Options
With upscale communities and advantageous tax laws, Dubai stands out as a key business hub, attracting diverse real estate investors seeking secure and profitable opportunities. Foreign investors in Dubai enjoy a tax-free system and streamlined property transactions, setting it apart from other cities with additional taxes on luxury properties.
Luxury Real Estate Market offers Unmatched Opulence
Dubai is synonymous with luxury and opulence. Its extravagant lifestyle, iconic landmarks, and breathtaking skyline make it an attractive destination for high-net-worth individuals seeking exclusive, top-tier properties.
Luxury Real Estate Market with Strategic Location
Situated at the crossroads of three continents - Europe, Asia, and Africa - Dubai's strategic location serves as a major advantage. This geographic positioning enhances its appeal as a global hub for business, tourism, and trade, attracting investors from all corners of the world.
Luxury Real Estate Market Offers Robust Economic Environment
Dubai's resilient and diversified economy has weathered various challenges and emerged as a stable financial hub. Its investor-friendly policies, tax advantages, and supportive government initiatives make it an ideal environment for real estate investment.
Luxury Real Estate Market with Iconic Developments
Dubai is known for its iconic developments and architectural wonders, which not only boost its global appeal but also add significant value to the surrounding properties. From the world's tallest building, Burj Khalifa, to man-made marvels like Palm Jumeirah, the developments in Dubai add to the city's prestige and investment potential.
Luxury Real Estate Market with High Rental Yields
Dubai's luxury real estate market offers attractive rental yields, often surpassing those of other major cities. Additionally, the potential for capital appreciation in this thriving market presents a compelling opportunity for investors seeking long-term growth. Explore the best 5 locations for real estate investment in Dubai.
Where to Invest in Dubai's Luxury Real Estate Market?
Dubai's luxury real estate investment options vary based on whether you prefer high-end apartments or villas. Dubai Marina stands out as the most popular choice for investors, with high-end apartments priced at USD 473 (AED 1,737) per sq. ft. Other attractive options for luxury apartments include Palm Jumeirah at USD 817 (AED 3,001) per sq. ft., Bluewaters Island at USD 1,215 (AED 4,463) per sq. ft., and City Walk at USD 598 (AED 2,196) per sq. ft. All these locations offer impressive ROIs of over 5%.
For those seeking luxury penthouses, Palm Jumeirah, Bluewaters Island, Downtown Dubai, and Dubai Marina present an array of appealing options. Prices range from USD 354K (AED 1.3M) to USD 204M (AED 750M), depending on the property size and area of interest.
Other sought-after areas for luxury apartments include Downtown Dubai and Mohammed Bin Rashid (MBR) City. In conclusion, Dubai offers an abundance of enticing opportunities for high-net-worth individuals looking to invest in luxury real estate.
In conclusion, Dubai's ascent to the pinnacle of luxury real estate markets in 2023 can be attributed to its unmatched opulence, strategic location, robust economy, flourishing tourism sector, vibrant expat community, iconic developments, and promising investment returns. These factors combine to make Dubai an irresistible choice for those looking to invest in luxury real estate and secure their dream home in one of the world's most sought-after destinations.
To invest in Dubai properties, discuss with our real estate consultants in Dubai to invest in the upcoming mega projects in Dubai.